Community Involvement & Team Building
December 2015 - Merry Christmas!
This year we did our annual Christmas gift exchange and we were able to donate some really great gifts to the foster children at 4Kids of South Florida.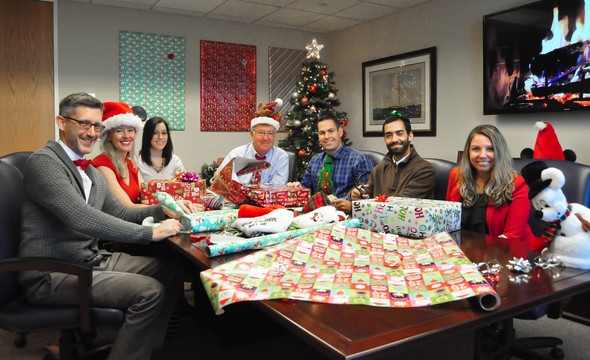 December 2015 - Annual Spanish River Run
McKinnon Wealth Management was the presenting sponsor for the second year in a row. This year the proceeds from the run went to Place of Hope, 4Kids of South Florida, and City House Delray.
June 2015- Inside Out
Every year MWM hosts a client appreciation movie event.  This year, we rented out the Regal Cypress Creek Theater where our clients and their families joined us for a private showing of Disney*Pixar's Inside Out.  
While in the lobby, Bob, Kevin, and Matt had some fun hanging out with the Minions.
June 2015-CIY Move
CIY Move is a conference held each year for high school students.  Laura's church took over 100 students with them and Laura attended as a leader for the incoming Sophomore girls.  She was able to witness a lot of great life change and commitments in the students.  
May 2015-The 13th Annual First Priority Ministry Champions Golf Invitational
First Priority is an organization that supports student-led, Christian clubs on middle school and high school campuses.  Many churches in South Florida work together to have pastor sponsors on each public school campus who work alongside the students to lead the club.   Currently, there are 165 campuses in 6 counties with First Priority clubs.  The 13th Annual First Priority Ministry Champions Golf Invitational raised $175,000 for this great outreach organization.
Mallory McConchie, her dad, and Roger Bond with Cypress Insurance Group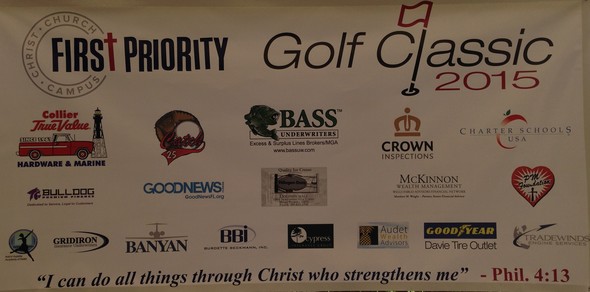 January 2015-2014 Combo 18 & Over Sectional Championship
Moussa is shown here with his tennis team.
December 2014-Spanish River Run 5k
On December 13th the McKinnon Wealth Management team was the presenting sponsor for the Spanish River Run 5k.  The proceeds from this race benefit local children in foster care through donations to Place of Hope and 4Kids of South Florida.  These terrific organizations provide stable, nurturing environments for local children and teens in crisis.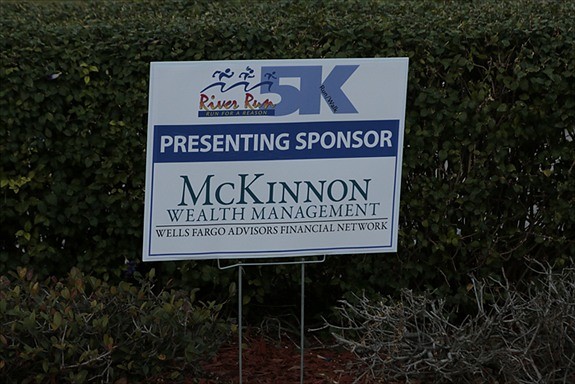 Arlie & Kevin
December 2014-Gifts of Hope for 4Kids of South Florida
In Broward County, approximately 10 children every day are removed from their homes and placed in foster care. They rarely have more than the clothes on their back when they go into their foster homes.
This year, our team decided to give back and donate toys for children that are in foster care with 4Kids of South Florida. For most people, Christmas is a time filled with family and love. For these children, Christmas is spent separated from family and spent with strangers.  We hope that we are able to bring a light to some of these children throughout our own city.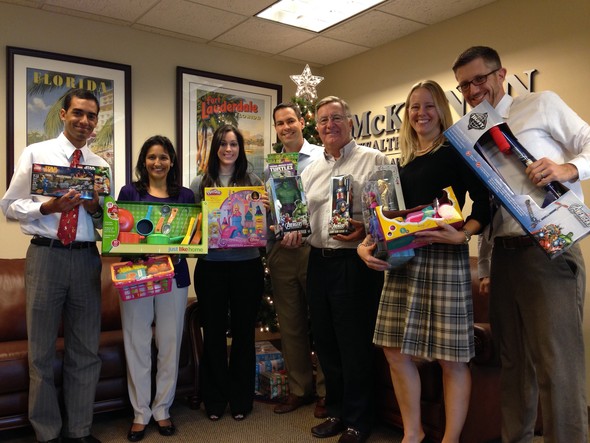 Moussa, Patricia, Laura, Kevin, Bob, Arlie, Matt
December 2014-Throwback Christmas
The McKinnon Team does a throwback to a 1970's Christmas Photo. Can you find Bob?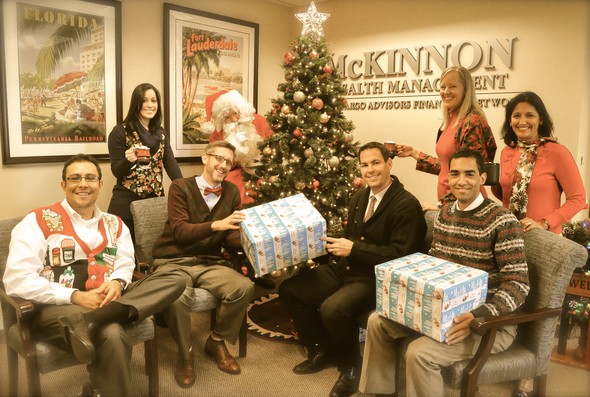 November 2014-SafePlace No Sew Pillows
SafePlace provides shelter and supervision for all of Broward County's abused, abandoned, and neglected children when they are initially removed from their families.  Most of these children are not permitted to take any of their belongings with them and therefore, they arrive at SafePlace with nothing of their own.  We created no-sew pillows for these children.  When each child arrives at SafePlace, they are able to pick out their own pillow and are allowed to keep it and take it with them when they go to their foster family. 
October 2014-Birthday Celebration!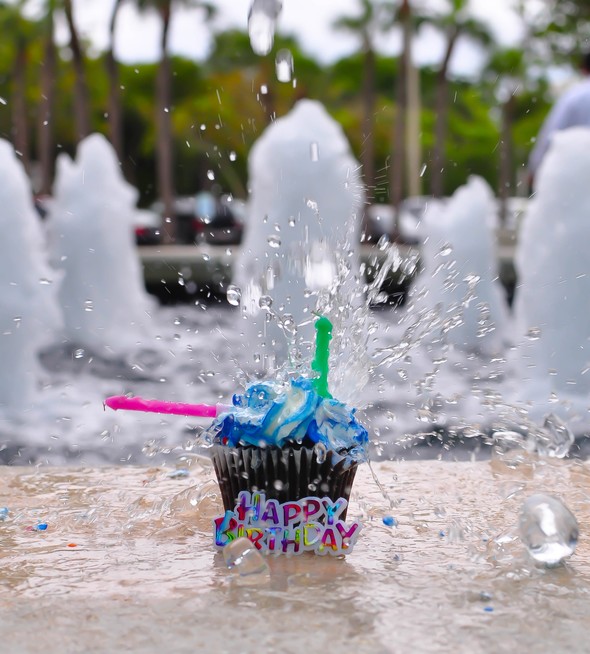 Remember the Ice Bucket Challenge? We celebrated our 2 Year Anniversary by demonstrating the Ice Bucket Challenge with a cupcake. 
October 2014-Happy Halloween!
The McKinnon Wealth Management team enjoys having team building activities throughout the year. This year we  all dressed up for Halloween!
Matt as Captain America, Moussa as an Army Man, Laura as a Miami Heat Player, Arlie as Mrs. Incredible, & Kevin as... himself!
July 2014-CIY Move
Every year Laura attends a high school youth conference called CIY Move. She attends as an adult sponsor. This year her church took over 100 students with them. Laura led a small group of senior girls where she was able to teach and mentor throughout the week. The everyday struggles of a teenager are growing more and more difficult.  Every year students attend this conference and come back with huge life change.